Immigration America - Emigrating To America - Information About Emigration America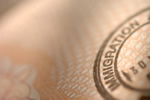 Immigration America - Emigrating To America - Information About Emigration America
To most, the U.S. is the land of opportunity. But the land of opportunity can quickly become the land of frustration given the great difficulty one has to go through to migrate there.
There are many ways that you can go about migrating to the U.S. You can go through employment sponsored immigration, family sponsored immigration, immigration through marriage, immigration by investment, immigration through lottery, or other methods. All these methods have different requirements and they may work on different time frames. You have to pick a method that is most effective according to your circumstances. The most important thing, however, is to be truthful in terms of all the information that needs to be disclosed.
The U.S. Citizenship and Immigration Services have a very informative website which provides the forms that are needed, as well as a complete list of laws and regulations that are related to immigrating to the United States. You can check for the requirements, your eligibility, and even the possibility of accelerated processing. Even the status of your case can be checked online. If you are willing to spend more money in order to migrate, there are also various immigration lawyers who specialize in this matter, and they will be able to explain all the legalese that may come up in the forms or the immigration laws.
Make sure you look out for new bills which are being passed by the Congress, as these laws may make it easier or more difficult for you to migrate to the U.S.