Emigrating to Jordan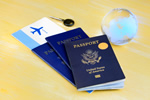 Emigrating to Jordan
Aside from the ever present passport, you would also need a visa to be able to get into Jordan. This is unless you are from Bahrain, Kuwait, Egypt, Iraq, Saudi Arabia, Oman, Syrian Arab Republic, Qatar, Yemen and the United Arab Emirates. If you are a foreign national from these countries, you can stay in Jordan for a maximum period of one month and you can apply for an extension at a police station nearest you. If you come from the USA, Australia, Japan, Canada, New Zealand or from Western European countries, then you can secure visas upon arriving at the Jordan airport.
There are three types of visas to Jordan and these are the tourist, transit and business visas. The costs for these visas are US$20 for a single entry and US$40 for a multiple entry visa. The validity of these visas would depend on your nationality.
If you plan on relocating to Jordan, then you will have a better chance of getting a temporary residence permit here if you enter the country with a business visa. This is especially if you intend to put an investment here. The Jordan Investment Board provides temporary resident permits for foreign investors in Jordan or for those who are associated with them. This includes employees as well as experts who are working for the investment projects that are covered by the Investment Promotion Law of the country. It is the JIB that will provide these authorities with the documents that are required for your residency in Jordan.
On your side, you will only need to complete the application form for the temporary residence permit and have it sealed by the Secretariat of the JIB. After this, you will only have to go to the One-Stop-Shop of the Ministries of Labor and Interior to know of their decision on your application.