Emigrating to Dominican Republic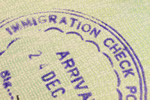 Emigrating to Dominican Republic
There are ways by which you can become a permanent resident of the Dominican Republic. If you are serious about your plans to relocate to this country, then you should know that getting a residence visa is the first step in securing the residence card in the country.
A residence visa can be secured after an estimated time of three months have elapsed since the date of your application. The Ministry in the Dominican Republic recommends that the process of your application for a residence visa in the country should begin before you arrive there. However, you can also process your application while you are in the country.
For you to begin with the application process, you must make a letter of application addressed to the consul or the Minister of Foreign Relations. You should duly sign this letter or have a representative sign on your behalf if you are unable to. This letter of request for the residence visa should contain your name, nationality, place of residence and the activity that you intend to do or is already doing in the Dominican Republic, as well as your ties to the country like whether you have a legalized work contract or you are married to a Dominican, among others.
For the application, you will also need a medical health certificate, a certificate of good conduct and a birth certificate, among other documentation and requirements. For this, you will also need to present your passport, which must have at least 3 months of validity left after having been submitted for visa processing. If your application includes your spouse, you also need to present a marriage certificate. If you have dependents, you should know that minors are exempted from submitting the good conduct certificate requirement.