Emigrating to Bulgaria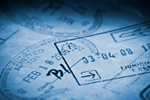 Emigrating to Bulgaria
If you are a foreign national who wish to enter Bulgaria, you need to present the necessary documents, namely, an entry visa and a passport. Only residents of EU countries are exempted from presenting a visa for a stay of less than 30 days in the country. The main types of visas that can be secured for your stay in Bulgaria are the airport, transit, short term and long term visas. The short term visa allows entry into the country for a maximum duration of 90 days. The long term visa is valid for a maximum period of one year and it allows entries for a period of up to 90 days.
In Bulgaria, you can also apply for a permanent resident's permit. If you are a child or a spouse of a Bulgarian citizen or a foreign national who is already a holder of a permanent resident's permit, then you are eligible to be granted this permit. A permanent resident's visa is granted to individuals who have permanently resided in Bulgaria for a period of 10 years and above. For those who have business interests in the country, a permanent resident's visa will be granted after more than 6 years of permanent residence.
If you already have a permanent resident's permit, then you can work in Bulgaria without a work permit. However, if this is not the case, then a temporary work permit or a work permit should be applied for. There are conditions and requirements that you and your employer should meet before you are issued a work permit.