Emigrating to Bahrain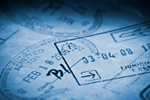 Emigrating to Bahrain
If you are visiting Bahrain for business purposes, then you must secure a visa to be able to be admitted there. However, if you are from countries that belong to the Gulf Cooperation Council or GCC or you are a citizen of Britain, then you can enter Bahrain without getting a visa prior to your visit. However, British citizens are only allowed up to a 30 days as the maximum period of staying in the country. If you are from Britain, the US or Canada, then there is a multiple-entry visa that is available for you, which has the validity of up to 5 years and allows a maximum stay of up to 4 weeks every time you visit Bahrain. The Consulate of Bahrain will take 24 to 48 hours to process your application for your visa.
All types of visas in Bahrain, especially the one you need for your business trip to the country are processed through an "in-country" sponsor. The only exception to this rule is those certain types of visas that are mainly for tourists. Processing and approval of visas are typically done by the General Directorate of Immigration and Passports and the Directorate of Immigration in Bahrain.
If you are employed in Bahrain and you want your dependents to follow you to the country, then you should already have a residence permit before you start processing for your dependents to stay in the country. You just have to remember that the Ministry of Interior in Bahrain, which is responsible for granting the RP, will not process your application for your dependents if you are earning less than BD400 to BD500 every month. You also have to remember that since your application for your dependents are to be sponsored by an organization, like your employer's company, your dependents are not eligible for any employment in Bahrain.