General - Emigrating to Japan
This is the category page for all General related articles within the emigrating to Japan emigration guide here on emigrate.co.uk...
Emigrating to Japan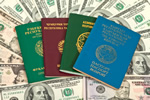 Starting November 20, 2007, all foreigners, as well as foreign residents entering Japan will be subjected to fingerprinting and photographing. This is a measure aimed at preventing terrorism in the country. Those who refuse to cooperate with this process will not be allowed to enter the country. Only those who are aged below 16 years of age...