Welcome to the Emigration Destination Guide for emigrating to Greece here at emigrate.co.uk.
Emigrating to Greece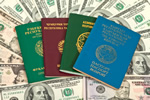 Although there are a lot of activities and entertainment opportunities in Greece for tourist and business visitors alike, it is a country that rarely sees the immigration and employment of non-European Union nationals. Because of this, it can be expected that getting work permits in this country is not that common and would only be done if...
Latest Greece Emigration News: