Welcome to the Emigration Destination Guide for emigrating to Colombia here at emigrate.co.uk.
Emigrating to Colombia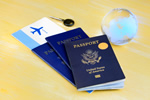 If your visa for your stay in Colombia is for more than three months, then you have to register with the Direccion de Extranjeria of the Departamento Administrativo de Seguridad or DAS. You have to do this within 15 days upon arrival in the country.  All foreign nationals are required to go through this registration procedure as this is a...
Latest Colombia Emigration News: