Emigrate to Russia?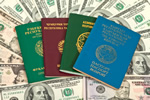 Emigrate to Russia?
So you're thinking of emigrating to Russia? With an increase in taxes and the recession hitting so many people in the UK, more and more people are looking at moving away from our cold, wet weather and moving to Russia. OK, so the weather might not be great but with its extensive history, culture and the fact that there is no council tax to pay, it's hardly surprising that so many people are moving to Russia. Obviously it isn't a decision to make on a whim but for some, this is the new start they've been looking for. So let's look at the benefits of moving to this country. What can you expect, and what can you gain, from moving to Russia?
Let's start by looking at the cost of living. There are increasing costs everywhere at the moment, or at least that's how it seems, and Russia is no exception – but it still remains a relatively low cost place to live. As I mentioned previously, you don't have to pay council tax in Russia. You may have heard that some parts of Russia are known for their glamorous and expensive lifestyle, but this is only to be found in the major cities such as Moscow. Many parts of this vast country are still very backward compared with the more extensively developed western countries.
Fortunately, although some places can be quite expensive, you could live quite comfortably if you aren't expecting a lavish lifestyle. If you live like a tourist, dining out every night and picking somewhere high class to live, then of course your expenses are going to be rather costly. An apartment is probably going to be your most expensive purchase but if you look around and try a little haggling, you should be able to get somewhere comfortable for a reasonable price. Utility prices are relatively low, along with the cost of transport and fuel. Another great thing is that local phone calls are free.
If you like to eat out then Russian restaurants are very affordable, but if you're looking for a taste of home, you may find yourself paying the same sorts of prices you would at home, if not more. If you move out of the city areas and look for something a little more rural, you'll find the costs even cheaper but be prepared for the lifestyle to be more rustic.
Even though the cost of living is relatively cheap in Russia, the funds that you go out there with will quickly start to run out unless you get a job soon after getting there. It is best to secure your employment before you leave your home country. So let's take a look at job prospects for a foreigner looking to move to Russia.
Most of the jobs available for people who are moving to Russia from the English-speaking world are jobs in teaching English. This may sound relatively easy to do but it might be better if you also spoke fluent Russian. Another possible job prospect is becoming a translator. Obviously this one will require you to have a strong grasp of both the English and Russian languages. Other common jobs are editing and freelancing. You can find a lot of these jobs by doing some searches on-line and joining some agencies both on and offline.
It is probably best however to seek work with an International company that has branches in the country, so before you leave for Russia you might want to contact one of these companies and seek a job with them. They may also fund your visa costs.
If you're moving your whole family to Russia, you need to take a look at some of the schools out there for your children. Moscow's English International School is a great choice with high levels of teaching and great support for students who are moving from the UK to Russia. This is helpful not only for your child in regards to education but it will help them to settle in and socialise with locals. It's also useful for you as a parent. You should have trust in the school that is helping your child make this adjustment, and being able to go to open days and visit the school gives you a chance to be involved in your child's education. This may be beneficial to the both of you. Of course there is more than one school out there and you should do your research into all of them before you move, and choose the one that is going to best suit your circumstances.
One of the things to remember is that making friends is not just about socialising. They can also provide some very valuable advice. They can point you in the right direction when it comes to housing and job vacancies. The Russian people also consider themselves well educated and enjoy the fine arts and theatre. This means that entertainment is readily accessible and very affordable. If you enjoy a bit of culture in your life, Russia is going to be a great experience for you.
Some people worry about leaving the UK, with our free on–demand healthcare system, but that's not a problem that you need to worry about when moving to Russia as medical care is also free there.
So as you can see, there are plenty of benefits if you decide to move to Russia. Job prospects are available for foreigners who both speak Russian fluently and those who have no grasp of the language whatsoever. I would suggest learning some basic words or phrases, preferably before you go out there. It will help with everyday things like getting around, finding out how much things costs and where certain things are, like the nearest hospital. It will also help you find vacancies for jobs.
With free healthcare, a great education system and a welcoming society, you will find the transition of moving from the UK to Russia pretty smooth. This doesn't mean you shouldn't do your research. No matter how great a place sounds on paper, it can still have its pitfalls and you should make sure you plan as much as possible before you leave. As long as you're not planning to live like a film star on a teacher's budget, you should be able to get by, living a rather comfortable lifestyle in Russia.
Finally of course there are the visa requirements that you will need to enquire about with the Russian Embassy in London. You will have to contact them anyway so why not speak to them first about what you want to do; they will be able to give some invaluable advice. Also please bear in mind that you have chosen a country that has one of the most difficult languages to learn in the entire world.