Emigrating to Turkey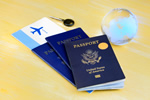 Emigrating to Turkey
There are now many immigration opportunities everywhere, even in Turkey. If you plan to work in the country, then you should get a work permit and visa at least a month prior to your scheduled entry into the country. In order to get the permit and visa, you will need to submit your passport, a letter from your Turkish employer and a visa application form to the nearest Turkish consulate, which will then forward your application to the Turkish Ministry of Labor.
Once you have applied for your work permit and visa, your employer should also submit a work permit application separate from what you've submitted at the Ministry of Labor and Social Security within 3 days after your application. The Ministry will be the one responsible to grant the permit. Applications are finalized within a period of 90 days at the maximum. Submission of a valid passport and a processing fee should be done by the applicant of the foreigner wishing to work in Turkey after approval of the permit. It is only after this that the consulate will issue an employee-specific work permit, which will not be valid until a residence permit has been issued.
Because of this, before you can start working and within the first month of your stay in Turkey, you need to register with the nearest police station in the area in Turkey where you intend to live. This is so that you can get the needed residence permit. While work permits are valid for one year only, they can be extended to a maximum of three years. Similarly, residence permits are also valid for a year but they could be extended to conform to the renewals made for the work permits.