Emigrating to Tunisia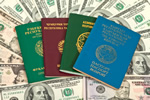 Emigrating to Tunisia
The primary entry and exit requirement to Tunisia is a valid passport. For those who are holding US passports, there is no need for them to present or even apply for a visa to stay in Tunisia for a maximum period of four months. A residence permit is required, however, for stays that will last a longer period of time. This residence permit can be secured from the central police station of the district where you are residing during your stay in Tunisia.
As with any other country, it is required for a foreign national to secure work and residence permits if he wishes to live and get gainful employment in Tunisia. So, if you wish to get a job in the country, you are to secure your work permit at the Ministry of Social Affairs. Some of the documents that you need to provide to get a work permit are your passport as well as your diplomas and transcripts certifying your qualifications plus other relevant papers. Your work permit will be evidenced on your passport in the form of a stamp and has a validity of one year. Renewal of this permit will need a separate application at the Ministry.
As soon as you have secured your work permit in Tunisia, it is already time for you to get your residence permit from the Interior Ministry. This residence permit has a validity period of one year and can be renewed after the new and extended work permit has also been obtained at the Ministry.