Emigrating to Sweden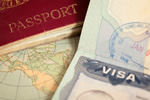 Emigrating to Sweden
There are citizens from many countries that can visit Sweden for up to a maximum of three months without the virtue of a permit. As visitor to the country, you must possess a valid passport or other travel documents as well as sufficient money to spend while in Sweden and to pay for your fare on your return to your country or another country. However, citizens of most Asian and African countries need to get a visa or a special permit to get into Sweden. They should apply for their visas at the Swedish consulate or embassy in their home countries.
For those who wish to work in Sweden from countries outside the Nordic area and the European Union, a work permit should be acquired before coming to the country. To get a work permit, they must have a written employment offer in Sweden, among other things. They should file their application for a work permit through the Swedish diplomatic mission in their home country. The approval or rejection of these permit applications are meted out by the Immigration Board, usually after making consultations with the Swedish labour board.
For foreign nationals who intend to stay in Sweden longer than three months, they must get residence permits. Typically, this permit has to be obtained prior to your arrival in Sweden. Still to be decided upon by the Immigration Board, these residence permits may either be permanent or for a fixed term. If you are a holder of a Swedish residence permit, you are not required to present a visa upon entry or exit to the country.