Emigrating to Qatar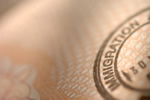 Emigrating to Qatar
You may never gain entry to Qatar without a sponsor, which is a person or a company who could guarantee for your stay and could be held responsible for you during your stay in the country. All foreign nationals, except for those coming from countries belonging to the Gulf Cooperation Council, are required to have a visa to be able to enter Qatar. This is whether you are planning to enter the country as a tourist, a family visitor, a business visitor or a prospective resident worker, who might be bringing in dependents.
If have a sponsor in Qatar, then it is already quite easy to secure a visa because your application for one would be coursed through your sponsor. There are some types of visas though, of which the issuance can be done by Qatari embassies abroad. You have to be aware that there is no airline in your country of origin that will permit you to get onboard planes bound for Qatar if you do not have a valid visa of one type or another.
People who intend to live and work in Qatar for a long period of time are required to get valid visas. It is usually the employer who will sponsor for these visas. An employer should apply for a residence visa for you before you arrive in Qatar. A few days after arriving in Qatar, you and your dependents, if you are bringing them along, would have to undergo some formalities, before your residence visa can be converted into the residence permit that is required for your stay. These formalities include fingerprinting, an AIDS test and a full medical check-up with X-ray.