Emigrating to Portugal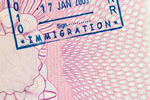 Emigrating to Portugal
Entry to Portugal is governed by quite a number of visas which you have to obtain for the specific purpose for which you are entering the country. There are visas for stopovers, transit visit, study, short stays, residence, temporary stays and work.
When it comes to immigration to Portugal for study, work or permanent residence, you have to get the necessary visa that would serve the purpose of your stay in Portugal. You can get a student visa if you plan to enrol in a programme of studies in one of the educational institutions in Portugal or if you are planning to do some scientific research or carry out an internship. For those who are planning to work in Portugal, a work visa or a work permit should be acquired. This visa allows residence in Portugal for a maximum of one year.
If you plan to reside in Portugal permanently, then the residence visa should be the one that you should apply for. This allows a foreigner to enter the country and stay there for a period of 6 months while he or she is applying for a residence permit. However, having a residence visa does not necessarily mean that your application for a residence permit will be granted. There are still a number of criteria that you have to meet before approval is given. The reason for your stay in Portugal, your means of subsistence and your accommodation conditions during your stay will be among the criteria to be examined before consideration is given.