Emigrating to Nigeria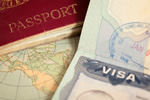 Emigrating to Nigeria
While you can enter Nigeria as a tourist or as a business visitor, you can also gain entry to the country as a worker. If you intend to take up employment while in Nigeria, then you can do this if you have a Subject to Regularisation or STR visa. Generally, it is the prospective employer who will facilitate the application of this type of visa. Based on the Immigration Law of Nigeria, an employer should write to the Comptroller-General of the country confirming of a vacancy on the expatriate quota. The employer will also state the position to be filled by the prospective employee and will confirm acceptance of the responsibilities of immigration.
The company in Nigeria who wishes to employ a foreign national would have to apply at the Nigerian embassy or consulate in the home country of the prospective employee. They will request that the foreign national and dependents, if applicable, be given a STR visa upon arrival in Nigeria. With the application, the employer undertakes all the responsibilities related to immigration or otherwise, when it comes to his employee and accompanying dependents. While the STR visa may be issued without reference for up to a period of 90 days, during this time, an application must have to be made to the Comptroller – General of Immigration. This is so that the stay of the prospective employee could be regularized. Only when this application is approved could the foreign national assume his or her job and be granted a residence work permit.
Once a foreign national has undergone all the legal formalities needed for residency status in Nigeria, he or she should then register at the immigration office nearest to his or her area of residence or occupation. These offices will refer this registration and application for regulation to the Comptroller for approval so that the residence permit can be issued.