Emigrating to Morocco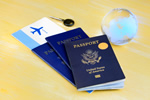 Emigrating to Morocco
In visiting Morocco, applying for a visa is not a necessary requirement for foreign nationals coming from countries that have special immigration agreements with the country. In this case, these foreign nationals can stay in Morocco for a maximum period of three months. For nationals coming from countries that do not get concessions or waivers when it comes to Moroccan visas, then a visa application is a must for them to gain entry into Morocco.
If you only intend to visit Morocco for a short period of time, then you can apply for a Morocco Tourist Visa. If your trip to the country is business in nature, then you can get a business visit visa. Generally, both visas are considered as entry clearances into Morocco that are valid for the same duration of a maximum of three months. The requirements for both visas differ though because of the nature of the stay in the country.
If you intend to stay in Morocco for longer than three months, then you would have to make an application for a visa extension within fifteen days upon arrival. If you are planning to apply for a Moroccan residence permit, then you have to get into the country by virtue of a short term entry visa and then apply for an alien registration card within 15 days after your arrival. Termed as the Carte de Sejour, this card can be applied for at the Foreigner's Office in the police station of the place where you are staying.
As the processing time of residence permit application permits in Morocco varies greatly, you must actively pursue your application if you want it done in the shortest time possible. Once your Carte de Sejour in Morocco is issued to you, the validity of this will be for a period of 10 years.