Immigrating to Macau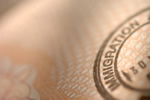 Immigrating to Macau
Based on the stipulation contained in the Basic Law of Macao, the residents of the country are divided into permanent and temporary residents. It is under this law that conditions that must be in possession of a permanent resident and the required formalities are stipulated.
Chinese nationals can secure the permanent residence status in Macao without having to declare the country as their place of permanent residence. Those of Chinese or Portuguese descent who holds a Macao Resident Identity card, the date of issuance of which was before December 20, 1999, have the same privilege of Chinese nationals. However, those who are holding cards issued after the said date should declare Macao as their place of permanent residence before they become permanent residents.
This is the same for those Portuguese who hold cards issued before December 20, 1999, while those with cards issued after this period will still need to declare the country as their place of permanent residence and submit the necessary documentation to prove the necessary conditions before they can be accorded the permanent residence status.
For people of other nationalities, the conditions for obtaining a permanent residence status are somewhat the same as the Portuguese holding resident identity cards that were issued after December 20, 1999. They will also have to submit documents that will prove that they have bought a house in Macao or are renting, and have an occupation or a stable income in the country, among others. Their tax statements are also one of the important documents required for application.