Immigration Ireland - Emigrating to Ireland - Information About Emigrating To Ireland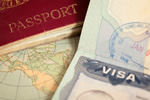 Immigration Ireland - Emigrating to Ireland - Information About Emigrating To Ireland
The Irish immigration structure is best navigated with right class of Irish visa at hand. There are the short term visas for tourists with which you are not allowed to seek employment in Ireland and long-term visas like the Irish Study Visa, the work-based visa or the business visa that you can get according to your specific needs.
When it comes to work visa applications, there are three categories that you can choose from and these are the Irish Green Card, the Irish Work Permit and the Intra Company Transfer or ICT. The Irish work permits allow companies in Ireland to hire people from other countries to do specific jobs while the ICT allows companies to transfer staff from foreign branches to do a specific project for a period of time. These visas will not pave the way for permanent residence as those holding these visas should return to their countries of origin after the grants expire.
The Irish Green Card is the type of visa that offers the possibility of permanent residence in Ireland, after two years of work in the country. However, unlike US Green cards where holders can immediately become permanent residents and citizens of the US, the Irish Green Card still functions as a work permit even if it may lead to an opportunity of permanent residence and the granting of Irish citizenship.
You can also enter Ireland by getting a student visa which allows you to study and stay in the country during your entire course. You can also switch to a permit to work after you have completed your course with the Graduate Program, if you have found or are offered employment in the country. Immigration of spouse and/or dependents to Ireland is also allowed for primary applicants relocating to Ireland. Spousal and/or dependent work permits can also be obtained for them so they can seek employment during their stay in Ireland.