Immigrating to Indonesia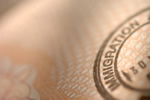 Immigrating to Indonesia
There are a number of ways for you to gain entry to Indonesia and one of these is becoming a business visitor. If your business visit does not exceed 60 days, then you could get a business visa for this, but if it exceeds this period, then you would have to get a work permit.
However, a foreign national could not just convert his or her business status to work status while he or she is still in Indonesia that easily. Although you can be in Indonesia while the application for work permit is still being processed, you still cannot be employed in any capacity to work. Once the application is approved, the work visa will be endorsed in your passport in the country.
If you would like to work in Indonesia, then an organization, preferably your employer, should support your application for a work permit. From the date that you applied for a work permit, it will take approximately 4 weeks from then for it to be processed. However, if you need to get to work immediately or if the project that you will be working on will be only for a period of less than 6 months, then a temporary work permit can be applied for under a new single entry 312 visa.
You will need to file your regular or temporary work permits at the Department of Manpower in Indonesia. Either of the applications will need for you to secure a visa first from the Indonesian Consulate that has jurisdiction over the country of your residence.