Emigrating to India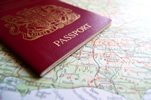 Emigrating to India
As with many other countries, the primary requirements to get into India are a valid passport and a visa. All visitors to the country must get visas at the Indian embassy or consulate in their country prior to entering India as there are no provisions for this upon arrival. In addition to valid visas, special permits should also be obtained if a visitor plans to enter restricted areas in the country.
Foreigners who plan to visit India to work, study, do research or participate in missionary work as well as those who intend to stay in the country for more than 80 days should register with the Foreigners Regional Registration Office in the area where they are staying. This should be done within 14 days after arrival in the country. If you are in a small city or town where there is FRRO, then you should head to the local police headquarters that normally handle this task in the absence of the FRRO.
If you have an overseas Indian of other origins and you intend to acquire Indian citizenship, then you can do this through the Overseas Citizenship of India program. This is a form of dual citizenship that allows you to enter India without having to conform to most visa and registration requirements. It also lets you to get some other rights although you cannot vote in Indian elections, buy some types of real estate or hold a position in the government. As a dual citizen, you will be subjected to all Indian laws while in the country. Of course, you may also be subjected to other laws and regulations like the imposition of special obligations such as paying taxes.