Immigrating to Grenada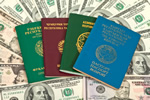 Immigrating to Grenada
Citizens from Britain, the US and Canada do not need to present a passport or a visa to be able to gain entry to Grenada. This is provided that they have two documents that prove their citizenship. These documents are a state-registered birth certificate and either a valid driving license or voter registration. For citizens from other countries, valid passports and possibly a visa will be required upon entry into Grenada.
If you are a foreign national visiting Grenada, you must never seek employment in the state unless you have been issued an official work permit from the Minister of Labour. The issuance period of these work permits is always at the discretion of the particular officer handling the application, although this will usually take at least two weeks for most cases. The validity of work permits is only limited to one year only, although these are up for annual renewal.
You can also become a permanent resident or citizen of Grenada. Usually, permanent residency in Grenada is by virtue of employment or business activities in the country. If you come from Cuba and the Caribbean Communities, then you will be paying lesser fees for your permanent residence permits than those coming from other areas. Meanwhile, becoming a citizen of Grenada will need for you to fulfill some categories. You can only become one if you have a Grenadian-born spouse or you have been married to a foreign national who has already obtained his or her Grenadian citizenship. If you have parents of Grenadian birth or you are a citizen of Caribbean communities or of Cuba, then you can also obtain citizenship in Grenada.