Immigration Germany - Emigrating to Germany - Information On Emigration To Germany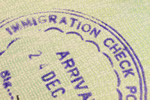 Immigration Germany - Emigrating to Germany - Information On Emigration To Germany
The German Immigration Act
In 2005, immigration to Germany was made easier through the German Immigration Act. This provides permanent residence and permission to work to qualified applicants on the outset. This an improvement from the five-year work permits that were granted before this. However, applicants of this immigration program should already have a concrete job offer and should get a permit from the German Employment Agency.
Members of the family of a highly skilled worker who has acquired a visa to work in Germany can get work permits in the country as well. This makes it easier for entire families to make the decision to move to Germany. Foreign students who also wish to study in German universities are also granted permission now to look for a job in the country within the year after they have completed their studies. This is if they wish to stay in Germany.
Immigrating To Germany And Being Self Employed
Under the new immigration law in Germany, self-employed immigrants are also given more ease in entering the country. All they need to do is invest one million euro and create at least ten new German jobs to be able to stay and manage a business in the country. Those who would like to live permanently in Germany would only need to get a German residence permit which also gives them the right to work. This is unlike before when separate work and residence permits should be acquired.
Citizens of Australia, New Zealand, the US, Japan, Switzerland, Canada and Israel could get their residence and work permit while they are still in Germany as visitors. However, they could not work in the country until their applications are approved. Citizens of other countries are required to get their permits at the German consulate in their country of residence before they can enter Germany.