Emigrating to Fiji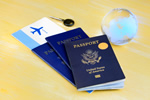 Emigrating to Fiji
Being a land of beauty, it is quite expected that there are many people who wish to enter Fiji. While you can easily get into the country as a tourist, the road will not be easy for you if you have plans to seek employment.
While you can migrate to Fiji by virtue of a work permit, you have to know that the Immigration Department of the country will only consider work permit applications on a case by case basis. If you intend to become a small-scale farmer or work as a straight machinist in a garment factory in Fiji, then you will not be granted a work permit. However, if your work permit is for work as a specialist machinist in a garment factory, then your application will be carefully assessed. Despite this, approval is only granted to quite exceptional cases.
You must also take note that you will not be granted a work permit, whether temporary or for long term if you are already in Fiji by virtue of a visitor's permit. Any individual holding a visitor's permit should leave the country before his application for a work permit can be accepted. Because of this, if you plan to get a temporary or long term employment in Fiji, you must remember to do so outside the country.
If you are an employer who wishes to hire a foreign national, then you are required to set up a cash or bank bond. This will be a form of security for hired employees before their work permits can be issued. The bond will be equivalent to a one way economy class airfare to the residence country of the permit holder, plus $500 as an allowance for airfare increases and other costs associated to it.