Emigrating to Estonia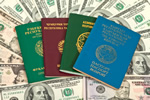 Emigrating to Estonia
If you are thinking of migrating to Estonia, then you have a great chance of getting accepted if you are already a holder of a work permit in the country. It is typically the rule that a foreign national who stays in Estonia for employment purposes will be granted a work permit based on his temporary residence permit.
If you are a sole proprietor of a business or you are employed under a contract with a company in Estonia, then you are already considered an employee in the country. With this, you have to ensure that the validity period of your work permit should not exceed the validity period of your residence permit. However, there are individuals who do not need work permits to be able to engage in employment in Estonia. These are the foreign nationals who are holders of long-term residence permits or residence permits for employment, or those who have applied for a residence permit and have secured it before July 12, 1995. Crew members and staff of locomotives, jailed persons during their imprisonment and cargo drivers also do not require work permits to do their jobs in Estonia.
A work permit will not be issued to a foreign national who is a holder of a residence permit that was issued on the condition that his legal income ensures his subsistence during his stay in Estonia. For those who wish to get a work permit in Estonia, they should submit their applications personally to the regional department of the Citizenship and Migration Board in the country.