Emigrating to China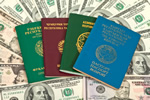 Emigrating to China
The reformation of immigration into China was started when reforms were made on the granting of residency permits. These reforms enabled China to do away with the troublesome procedures that plagued foreigners wishing to live in the country in the past.
Instead of having to renew residency permits yearly, now, foreigners can obtain long term residence permits that grant them between three to five years of residency in China. It was the Beijing Municipal Public Security Bureau that started giving out these permits. Many people saw this as a transition towards permanent residency in the country in the future. This green-covered Foreign Residence Permit of China is made available to foreigners that include senior advisers, managers and researchers as well as senior management staff and professionals.
China has also adopted flexible visa rules for foreigners to be able to work and invest in the country. Based on these rules, those who are qualified are to apply for a special multiple-entry visitor's visa with a validity of 2-5 years. This allows a foreigner a maximum stay of 12 months per visit. A special multiple-entry work visa can also be applied which will allow a foreigner to stay in China between 2 and 5 years.
However, these types of work visas can only be acquired by senior advisers, high-tech professionals and senior managerial personnel. Those who have made great contributions to China as well as professors and researchers who are invited by research institutions or key universities also qualify to hold these visas. Foreigners holding the position of general manager or higher after having been invited by a Chinese enterprise or those who are able to invest a minimum of US$ 1 million in the western and central parts of the country and a minimum of US$3 million in other parts, are also eligible to get the special work visa.