Emigrating to Brunei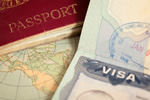 Emigrating to Brunei
Whether your purpose of entering Brunei is for employment, business or just a plain tourist visit, you will still need a valid Brunei visa. Visitors to this country can only expect to enter through the legal points of entry.
If you are in Brunei just to visit, then you should apply for a visit visa, which allows you entry to the country. There are two types of visit visa and these are the professional/business visit visa and the short/social visit visa. The term of validity for all types of visit visa is only a maximum period of three months while the processing will only take one to three working days. A single entry visa cost B$20 while a multiple entry visa that is valid for less than 3 months is worth B$30 and a multiple entry visa good for more than 3 months costs B$50.
If you want to work and live in Brunei, then you will also be supplied an employment visa based on the proof that you already have received a job offer in the country. Because of this, it is best that you have already gained employment before leaving your country of residence. It is the Brunei High Commission that will supply this visa and your passport will be stamped upon your arrival for your certain work period. Take note that your employer should apply for a labour license for you once you arrive, especially if you work in the private sector. This license will precede getting your work permit. If your work in Brunei will take more than three months time, then you have to get a green Smart Identity Card at the Immigration and National Registration Department.  The getting of this card can be the prelude to your getting a residence permit.