Emigrating to Botswana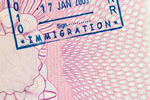 Emigrating to Botswana
Visiting Botswana would require the owning of a passport that has a validity of at least six months. Foreign nationals exempted of this rule are those that possess United Nation Convention travel documents. All visitors to the country must also have the necessary documents for outgoing travel as well as sufficient amount of money for their subsistence in the duration of their stay.
If you are coming from a country that needs a visa to be able to enter Botswana, then you should secure one from the various high commissions and embassies representing the country abroad. In countries where Botswana has no representation, visas for the country may be secured from the British High Commission. If you are a holder of an entry visa that was acquired at border posts, you have to be aware that these are valid for a period of 30 to 90 days.  You can have these periods of stay extended at any immigration office in Botswana.
No visitor to the country is allowed more than a 90-day stay unless permission has been given through a waiver issued pending the result of an application for a residence permit. You can also stay on in Botswana based on your employment, for which you should submit a waiver from the labour and immigration department and a copy of the acknowledgement slip for your application of a residence permit.
If you already have a work permit in Botswana, then it is also incumbent for you to apply for a residence permit. This is important as you will be staying in the country for more than 90 days. One of the most important requirements for getting a residence permit in Botswana is the offer letter from the company that has hired you, or your employment contract.