Emigrating to Bangladesh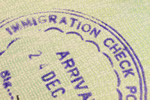 Emigrating to Bangladesh
Bangladesh may not be an ideal country for immigration but it still has a Governmental Program that provides immediate reception to those who would like to be citizens of the country. However, for you to gain a reception of citizenship, you would need to invest at least US$500 in any industrial enterprise in Bangladesh. All queries that you may have regarding the reception of citizenship are dealt strictly and individually by the Supreme Commission.
However, if you wish only to go into Bangladesh for business purposes, then you can request for visas with duration of one year or those that provide multiple entries. Bangladesh issues visas for single entry that are good for three months. You can also apply for multiple-entry visas that are good for three months, six months or one year. These visas can also be extended.
Business people should also be aware that rules to the landing permit or LP and visa on arrival or VOA provisions of business visits to Bangladesh have been modified. Foreign investors going into Bangladesh could avail of landing permits or visa on arrival from ZIA for a maximum of 30 days. There are certain conditions to this ruling and one of these is that the foreign investor should be identified by virtue of a certification issued by the Board of Investment. If a foreign businessman is directly connected with the import of products from Bangladesh, then he or she could also avail of the LP or VOA.
Other conditions pertaining to the issuance of the landing permit or the visa on arrival include that its period could not, in any way, be extended and that the applicant should have an endorsement of at least US$500 in his passport or in cash. Having a return air ticket and using the same port for entering and exiting the country are also among the conditions for the LP and VOA issuance.