Spain joins EU migrant quota opposition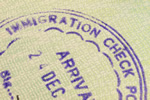 Spain has rejected the EU's proposal to set member states migrant quotas, following on from the UK and France's similar moves.
The Iberian country rejected the proposal to share the mounting migrant burden, insisting that it had already helped many refugees and could not accept compulsory quotas.
The European Commission unveiled the plan last week, but it already looks in doubt because of the resistance of a number of key member nations. It was part of a number of proposals by the EC designed to fight the rising numbers of migrants crossing the Mediterranean, often in rickety boats, in a desperate attempt to reach Europe.
Other measures include the possibility of military action against trafficking networks, in particular destroying the dangerous vessels migrants are being transported in. However, this ploy has been met with opposition too.
Under the quota proposal, each of the 28 EU countries would have to take in a certain number of asylum seekers that was relative to its population, size of economy and unemployment level, in addition to several other factors.
The UK said it was against the quota system as soon as it was announced, saying that all migrants should be processed in the nearest country.