Suicide attempts in Australia's PNG detention centre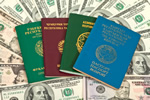 Papua New Guinea's detention centre on Manus Island, where Australia sends asylum seekers to be processed, has faced with mass demonstrations for more than a week, with reports stating that there have been a number of suicide attempts.
One asylum seeker, who requested anonymity, said that the situation had reached a "critical" stage and many people were now attempting to commit suicide. At least two asylum seekers in the detention centre have tried to kill themselves by staging a hunger strike, while two others attempted to hang themselves before others intervened. Sources said two more swallowed nail clippers in a further indication of how desperate their plight was.
The reports came amid mounting speculation that a large number of detainees are self-harming because of the conditions they are being forced to live in. the Refugee Action Coalition (RAC) said that in at least one centre, asylum seekers hadn't had access to running water for many days, and were currently washing with bottled water.
The organisation said that more than 700 detainees in the Manus Island centre were on a hunger strike, protesting the long processing times and inhumane treatment they were being forced to endure. The claims go against Prime Minister Tony Abbott's insistence that detention centre staff had "broken" the protests.
RAC spokesman Ian Rintoul insisted the government's crackdown had failed and that there were now even greater numbers on hunger strike.
The centre on Manus Island is one of two offshore processing camps – the other being on the Pacific island nation of Nauru – that have been put in place as part of Abbott's policy of processing asylum seekers that arrive by boat outside of the country.