Britain no longer providing most migrants to Australia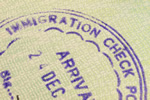 For the first time since the mid-90s Britain is not supplying the highest number of immigrants to Australia. For the year 2011-2012 the most migrants came from India followed by China pushing the UK into third place. The number of British migrants entering Australia in the last year is slightly up on the year before at 25,274 but is still 20 per cent down on 2006-2007 when 31,401 migrants crossed to the former colony.
Experts believe that the number has fallen, not because the number of people wanting to move to Australia has fallen but because it is becoming more difficult for Brits to obtain visas. Another major barrier appears to be an economic one.
According to Australia Migration Forums director, Robert Williams, the stagnation of the housing market across much of the UK has meant that the funds needed to move to a different country have been tied up for many.
Currency Index managing director, Robin Haynes, said that since the end of 2008 when sterling could buy A$2.64 the rate has fallen to just A$1.50 to the pound. This means that in just a few years the value of the pound against the dollar has dropped 43 per cent.
Haynes said that high interest and high property prices were also making Australia less attractive to those wishing to move from the UK. A joint study by the University of York and Flinders University suggests that between 2005 and 2010 around 30 per cent of Brits who had initially decided to live in Australia had returned home.