Aussie political party wants no more Kiwis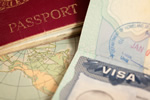 As Australia's population keeps growing, a local political party is demanding a stop to the unlimited immigration of New Zealanders. The newly-formed Stable Population Party has argued that the pact allowing Kiwis free flow into Australia must be abolished.
Clifford Hayes, the party's Victoria Senate candidate says it is still possible have close ties with New Zealand without offering a completely open immigration policy. Over 50,000 New Zealanders relocated to Australia during the past 12 months, he added.
Kiwis should have to submit applications to migrate, said the party, which aims to reduce total net immigration from 180,000 to 80,000.
The request comes as the most recent Bureau of Statistics figures reveal that the Australian population expanded by 1.4% in 2011. The demographics of Victoria expanded at the fastest rate, a jump of over 75,000 people to around 5.6 million, as reported by the Herald Sun. Figures were boosted by sky-rocketing immigration rates, more births, as well as net increases in inter-territory immigration.