Oz immigration eases skilled workers points pass mark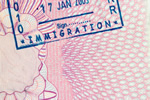 Those thinking about relocating Down Under will be happy to know that Australian's Department of Immigration has lowered the "pass mark" for Britons seeking visas to migrate, from the 60 point mark down to 65, in order to lure more skilled workers to the economy.
In recent years, moving to Australia has been a notoriously challenging process, as factors including family history and net worth are heavily weighed alongside the would-be migrant's occupational skills and educational qualifications.
Paul Arthur, who directs The Emigration Group (British-based migration specialists), says Australia is currently carrying out a massive migration drive—one of its biggest in 40 years. The drop in the pass mark is just part of this scheme, which will facilitate the visa application process for Brits who wish to live and work in Australia, he added.
Coming into force on July 1, the move is among a series of immigration reforms being introduced. It comes after the recent establishment of the SkillSelect programme, which was updated to include Computer Network & Systems Engineering, Optometry, Mining Production Management and Metallurgy.
These jobs were added to an already-lengthy list, which also comprised of more traditionally transferable occupations such as teachers, healthcare professionals, construction engineers and accountants.