Tokyo surpasses Luanda as priciest city for emigrants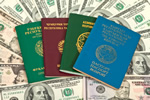 Tokyo has overtaken the Angolan capital Luanda as the globe's priciest city for emigrants, out of 214 cities ranked by Mercer, as Moscow continues to be the most expensive city to live in Europe.
According to Mercer's yearly Worldwide Cost of Living Survey, recent global events, including political and economic turmoil, have changed the rankings of several regions via inflation, volatility in accommodation prices and currency fluctuations.
Using New York City as a base metropolis, the analysis calculates the comparative prices of over 200 items at each location, including transport, food, clothing, entertainment and household goods. Also included are housing costs, which are critical in the ranking system as they are frequently the greatest expense for expats.
International newspapers in Moscow cost around $9.60, while expats in Luanda pay around $174 for a pair of blue jeans. A cup of coffee and service in Tokyo averages around $8.15, while monthly rent for a luxury unfurnished two-bedroom apartment costs about $4,766, says Mercer.
Geneva held onto its ranking as the globe's fifth priciest city for expatriates, while Zurich went up one spot to sixth and Bern gained two places to 14 after the franc gained against the dollar. The most economical city for expats is Karachi, where it is less than one-third the cost of Tokyo, according to Mercer.