Four Irish families emigrating each week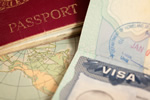 Around four Irish families are emigrating every week, reports one of the country's biggest storage and removal companies. Careline, which operates in Dublin, Limerick, Cork and Galway, says public demand for its services stemming those leaving the country has gone up during the last 18 months. 


Noel Power, the firm's general manager, says that in addition to clients using sole containers, in which a container is exclusively used by one person, another 20 clients could take advantage of group storage options and shipping in any given month. 


Power added that, in many cases, those emigrating abroad gave the impression that they had no plans to ever return to Ireland. The demand for the firm's services has been gradually rising during the past 18 months, he added.
Careline is now shipping around three or four containers abroad each week. In addition to this, it has clients — mostly young professionals — who benefit from group shipping where their property is placed in a shared container with the possessions of other people. 


Items currently being shipped include pets and family cars. Sole containers can be up to 40ft in length, as reported by the Irish Examiner.