UK minister promises extra Heathrow Immigration staff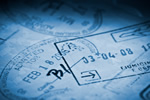 As reported by Travel News, the infamous lengthy queues at Heathrow Airport's immigration desks have convinced the government to allow for an increase in staff members.
British immigration minister, Damian Green, has informed Parliament that the UK government's initial proposal (which was to recruit 70 extra Border Force staff following the Olympic Games in August) has been taken on.
Making his announcement, Green said that queue lengths witnessed at certain times of the day, particularly at Stansted and Heathrow, are unacceptable. This is why measures have been taken to tackle a problem which needs continual attention, he said.
Practical steps are needed to address the problem of long queues, while the first priority must also be border security, added Green.
Other parties which addressed the committee were the owner and operator of Stansted and Heathrow Airports, Colin Matthews (CEO of BAA), and representatives of British Airways and Virgin Atlantic.
Commenting on the delays at Heathrow, Mr Matthews said they had become worse since the 2010, especially in the summer. There has been some improvement during the last week or so, he said, attributing the advance to the additional resources made available.