Emigrating British citizens get to keep their retirement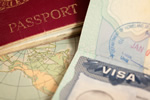 After years of hard work, many British workers built up large pensions to live out their retirement years. These UK pensions kept them from being able to immigrate to foreign countries in fear of losing their nest egg due to high cost of moving and fees attached to transferring their savings plan. This has now changed however based on new laws recently approved by the UK Government which would now allow British Nationals to immigrate to their dream retirement location and take their UK pension along with them while being able to stay away from any additional taxes.
This new law will make UK pension program possible to be converted to another countries pension that is tax free. In order to take advantage of this benefit however, the following stipulations are involved. First is that the retired individual must take up permanent residence in the foreign country. The second stipulation is that money must be moved to a foreign pension plan for a period of no less then five years. Once the 5 year period has passed the UK pension could be changed over to cash and not have any fees added in.
The original laws placed a large tax on those Brits who moved abroad while living off of the pension savings. It was designed to try to keep more Brits living at home during their retirement however this did not stop most from taking the fee and still moving abroad to popular retirement locations for UK such as Australia and New Zealand.