Overseas Students Being Unfairly Targeted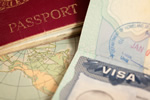 It seems that some experts now agree that emigrant students in Britain, or those who are from outside the European economic area, are the easiest for the government to attack and could be getting attacked for no reason. Since the latest series of crackdowns on international students, which started about two years ago, the emigration advisory committee has recommended a review of the rules that allow students attending further education colleges to look for jobs when they graduate.
The report that has just recently come out suggests that the qualifications awarded by about 600 institutions be reviewed to see whether they have sufficient merit to let graduates stay in the UK. This comes just after a recent speech by Gordon Brown on emigration, which promised a further tightening of visas for international students as well.
Many experts go on to point out that most media groups have failed to take into account the fact that the emigration advisory committee has reported no evidence that suggests that international students take jobs away from the British workforce. This news is yet something else that is unsettling to international students. Many of them have already been subject to many extreme measures from the government in an attempt to reduce emigration figures.
Although most experts do agree that emigration is something that needs to be controlled, they do admit that the government could be focusing on the wrong group. They go on to point out that stricter laws for overseas students may only end up hurting the UK in the long run. After all, international students make up a good portion of the money that comes into both the UK and universities. Soon these students may determine that it's not worth it to study in the UK anymore and take their money elsewhere.