Common asylum system for the EU urged by Cypriot minister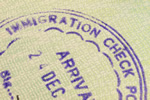 The Cypriot Interior Minister Neoclis Sylikiotis has repeated his country's calls for a common EU asylum system that will provide relief to smaller states which are coming increasingly under immigration pressure.
Sylikiotis made the statement on his return from Brussels at the Larnaka International Airport, where he claimed that the Justice and Home Affairs Council meeting from which he had just attended as being vitally important.
Sylikiotis said that it was at the Council that ministers from across the EU had approved in principal the Stockholm Programme which would deal with affairs relating to homeland and justice. The programme is set to be ratified on the 10th of December by EU leaders in an EU Council meeting.
Sylikiotis also confirmed that the Common European Asylum System was discussed, along with how this system would operate over the next 3 years. Sylikiotis explained that it was important to maintain such as system within the EU as it would help smaller states such as Cyprus who are continually at the front line of immigration and trafficking therefore should receive a balanced allocation of resources to address wider European problems.
Recently Cyprus has strengthened as a gateway for illegal European immigration, particularly after crackdowns in France and Britain. People and drug trafficking have also returned to the 'southern route' from Africa through the Mediterranean and onto Italy with Cyprus directly in the firing line.
There has also been considerable immigration pressure in the north of Cyprus where strong Turkish immigrant settlements continue to attempt to cross into the government controlled southern part of the country.