British borders could soon be patrolled by drone aircraft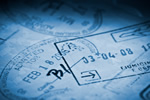 Military-style unmanned drone aircraft could soon be seen in the ranks of the UK police force as the fight against drug smugglers and illegal immigrants continues along Britain's coastline.
The drones or Unmanned Autonomous Systems (UAS) have been employed by British armed forces in order to monitor enemy action in Afghanistan. The new proposal would see maritime surveillance boosted by the drones as early as 2012 where they would be under the control of the Kent and Essex police forces in conjunction with BAE systems.
BAE systems have confirmed that it was currently working together with the two forces to investigate the options. The partnership would also extend to the Maritime and Coastguard Agency, the UK Border Agency and the Marine and Fisheries Agency.
The drones have the capability to operate at a height of 20,000 feet and would use high resolution imagery of ships and vessels to police control rooms. The UAS can also remain airborne for up to 15 hours at a time.
Kent police have advised that they are investigating new approaches in terms of aviation options available to police forces, saying that UAS could perform a major role in working alongside the likes of the Civil Aviation Authority.
The drones can be programmed to take-off, search and record all with a single mouse click and may even be used to monitor large scale public events like music festivals. For immigration control, the UAS would have a twofold role – identifying and monitoring the English Channel shipping lanes and also acting as a police extension for watching out for illegal immigration.