Iraqi Asylum Seekers Blocked From Deportation by Court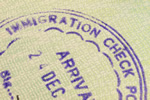 Information has just come in that a high court judge just recently blocked the forced removal of six Iraqi asylum seekers on a deportation flight back to Baghdad. This was a flight that was suppose to be leaving Heathrow Airport yesterday morning.
It seems that Mr Justice Davis has now granted an injunction that has prevented the removal on the grounds that the Home Office has refused to disclose the precise destination of the flight. Under these terms, the court has no choice except to prevent the deportation of the failed asylum seekers.
Apparently the removal directions simply stated "Iraq" and nothing more. The officials refused to disclose the route or even the date that it was going to take place on. This is the very first time that the Home Office has tried to send refused asylum seekers back to Baghdad. All of the other charter flights set up by the Home Office have deported people to the Kurdistan regional government controlled area of northern Iraq.
The chief executive of Refugee and Migrant Justice, Caroline Slocock, said that if the flight has gone to the center of southern Iraq, it shows a cavalier attitude towards the law, which is of great concern. She went on to say that the government should have waited for the outcome of a recent appeal court asylum case that involved a review of the current conditions in Iraq. This will likely lead to more Iraqis gaining the right to stay in Britain. Many say that the current living situation in Iraq is still unpleasant, and thus, they would not be turned down for seeking asylum in Britain.