Illegal Emigrant Jumps from Moving Lorry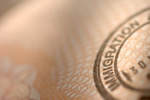 In an attempt to get away from police, an illegal emigrant jumped from a speeding lorry at Corporation Street, Rugby. After jumping from the lorry, the man ran off, but police were able to pick him up fairly quickly.
After catching the emigrant that jumped out of the lorry, police stopped the lorry further down the road and found that there were two more illegal emigrants hiding in the back. All three of the men were reportedly arrested on suspicion of using an illegal measure to enter the country. The men were then handed to UK Border Agency officials.
Later reports go on to show that two of the men were from Iran and the other was from Palestine. However, it was not clear how far they had traveled in the lorry. A spokesman for the UK Border Agency said, "We can confirm that three individuals, suspected of illegally entering the UK in a lorry, were arrested on July 24 in Rugby before being swiftly transferred to a specialist team of UK Border Agency officers. All of the suspected stowaways are currently being detained and will be removed from the UK as soon as possible." The spokesperson also noted, "Since the start of this year, we have already prevented more than 18,800 individual attempts to penetrate the UK border at our controls in northern France."
The UK is currently in the middle of trying to crack down on all illegal emigrant activity within its borders. Companies that hire illegal emigrants can face huge fines if they are not able to prove that they did the proper background check before hiring an illegal emigrant.
Thanks to www.coventrytelegraph.net for the above quotes.