UK Border Agency Says Two Human Traffickers Found Guilty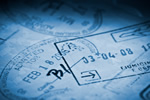 www.bia.homeoffice.gov.uk
A couple from Mauritain have been found guilty of four different counts of human trafficking as well as three counts of employing illegal emigrant workers. The couple, Anbanaden and Shamila Chellapermal of Queens Gate, London, was accused of bringing in three women and one man into the UK last year. Just yesterday, ending a three week long trial, the jury returned a unanimous verdict against the couple.
During the trial, the jury heard from a Sussex police officer that he had received information back in June of 2008 about a Mauritian woman working at a care home in Worthing and being exploited. This information, of course, prompted an investigation by the UK Border Agency and the Sussex Police.
The investigation found that three women and one man had been recruited in Mauritius by an employment agency that was promising work abroad. All of them had been given an invitational letter to show the emigration officers in case they were asked for their reasons for coming to the UK. The letters all said different things. One letter indicated that the woman was there to visit the Chelsea Flower show, while another referred to sightseeing and Christmas shopping.
All of the emigrants had been brought to the UK via Heathrow airport. After arriving at the airport, the emigrants where met by one of the two traffickers. The victims, in this case, were all working between 70 and 90 hours for only about £450 per month. All of the victims were forced to stay at the address and were prevented from being able to go see doctors or getting any kind of treatment. Most received very little to no time off.
For more information visit: www.bia.homeoffice.gov.uk