The UK Benefits from Immigration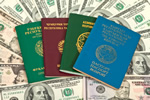 Recent studies show the British economy has been enhanced by the increased levels of immigration from foreign countries in the past decade. As a result of the higher numbers the UK has seen lowered inflation and interest rates as stated in the new report issued by The Work Foundation Today Britain.
The study results show UK immigration increases have caused a decrease in past skills and labor positions shortages and that the economy has remained on steady upward growth path. The Foundation's associate director said the evidence concerning the UK's ageing population and fewer young people seeking jobs mean fair and flexible polices concerning immigration are necessary to keep the economy moving upward.
Coats also states in the report that they see positive impacts from immigration on the UK in other ways. It shows that in 2007 fewer migrants moved to the UK from central and Eastern Europe than in the past couple of years which indicates that the UK should focus on promoting future immigration in these countries, and as a result keeping the immigration trend going upward and inflation and interest rates low.
In a May press conference, Prime Minister Gordon Brown said that UK immigration had added billions of pounds to the economy, which is a significant contribution to the economy. He also said that most British businesses that have endured various labor shortages in the past are now benefiting from being the ability to recruit more widely from migrant skilled labor.
According to the press conference statement, officials have every intention of continually promoting immigration and encouraging potential migrants to apply.