Gurkha veterans denied settlement visas in the UK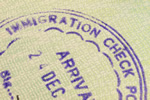 Gurkha soldiers who have served as a part of the British Army for close to two hundred years are being met with rejection by immigration officials when they try to settle in the UK.  Gurkha veterans like Gyanraj Rai, who have successfully managed to settle in the UK will take in fellow veterans will they appeal to the Home Office. 
Councilor Peter Carroll has said of the situation that "They're not allowed to work. They get a bit of charity from their friends and their colleagues. And they eke out a living.  It's a sad and lonely and miserable existence. And these are fine people, these are warriors, these are people who would have died for us."
A legal firm that represents man Gurkha veterans has had an extremely small percentage of their clients actually receive permission by the government to settle in the UK.  One of a handful was Tul Bahadur Pun.  Due to a life threatening condition Pun wanted to come to the UK for medical treatment which was unavailable to him in Nepal.  Originally his application was rejected by officials who said that Pun "failed to demonstrate strong ties with the UK."
Martin Howe who is a senior partner at the law firm said of  Pun's situation that "It was only as the result of a large campaign, driven over here in the UK by the media - it was only because of that that ministers were shamed into looking at the matter again and shamed into granting Mr Pun his settlement visa."
www.homeoffice.gov.uk