Debate over new points based immigration system among UK officials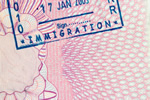 Several MPs have called for the UK Home Office to institute a policy that would put a cap on the number of immigrants that are allowed into the United Kingdom each year.  Liam Byrne, the Immigration Minister, has said that such a plan would not be as effective at limiting immigrants in the country compared to the new points based system that is currently being introduced by the government.  Officials with the Joint Council for the Welfare of Immigrants said that putting a cap on immigrants would be "divisive and wasteful of talent.
Two British newspapers, The Sunday Express and the Sunday Times, are both noting that Frank Field and Nicolas Soames will release a report tomorrow that puts great emphasis on creating an immigration plan that incorporates a limit cap.  A source with the Sunday Express said that the two will recommend that anyone granted a visa to work in the UK "should be sent home again after four years unless they can prove they are highly skilled workers or gifted scientists who will benefit our economy".
Dominic Grieve, the Shadow Home Secretary said "We have made our own proposals to set an annual limit on economic immigration, because we want to reduce the pressure on our public services which has been caused by the uncontrolled immigration levels of recent years."
Byrne noted that "Our tough new points system plus our plans for newcomers to earn their citizenship will reduce overall numbers of economic migrants coming to Britain, and the numbers awarded permanent settlement."
www.express.co.uk
www.homeoffice.gov.uk