Population levels could reach astronomical levels in the UK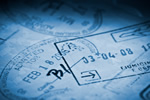 As the flow of immigration is causing the UK population to skyrocket new research conducted by Mirgrationwatch UK suggests that by 2010 immigration will level off.  By leveling off they mean that emigration is going to continue to increase which will offset the number of immigrants coming into the UK.
The Chairman of Migrationwatch, Sir Andrew Green, notes that 'The latest population estimates confirm that, in the next 25 years, we will have to build seven cities the size of Birmingham just for new immigrants. This cannot be allowed to continue unchecked.  The Government is carrying out a major reform of the immigration system but its central feature, the points-based system, does not limit immigration and is not even intended to do so."
A spokesperson for the Home Office said in response that '"he tough new Australian-style points-based system means only those we want and no more can come here to work and study.  The points system covers close to six in ten of all migrants - more than a cap - and is flexible, allowing us to raise or lower the bar according to the needs of business and the country as a whole."
"Nationals from the Accession 8 countries (those that joined the EU in 2004) continue to come to the UK to work, contributing to the success of the UK economy, whilst making few demands of our welfare system.  Migrant labor is by no means the only solution to our tight labor market. The National Skills Strategy was launched to address the needs of our domestic labor force," she continued.
www.homeoffice.gov.uk
www.migrationwatchuk.com