Roadblocks to emigration in the UK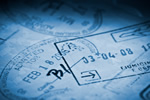 Many Britons looking to emigrate are running into roadblocks along the way.  As the economy worsens many are finding it difficult to sell their current households before moving abroad.  Further adding to the problems faced by emigrates are timelines on visas they have obtained in foreign countries.  Visas typically need to be activated during the first year after issuance. 
One company that helps people emigrate abroad is HiFX.  The director for HiFX, Mark Bodega, said "Bearing in mind that 2007 was a record year for emigration, the fact that even more people are looking to move abroad this year shows that there is now a very real desire to escape some of the problems in the UK economy. However the problem that many people are being confronted with is a simple one - they cannot sell their UK property and, without this equity from the sale of a house, they don't think they can fund their dream move and so are putting their move off."
HiFX notes that in the first 6 months of the year they have seen an increase of about 30 per cent in those enquiring about emigration.  While more people are interested in emigration compared to last year there has only been a 10 per cent increase in those that actually follow through with their emigration plans.
Bodega went on to say that "Once you have decided to move abroad it can be incredibly frustrating to find that you can't because you're struggling to sell your UK property. There is a lot to think about when emigrating but it may be worth deviating from your original plans and considering holding onto your UK property until the market picks up."
http://www.hifx.co.uk/