Reactions to new UK immigration law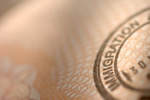 New immigration law in UK has increased the time required to gain UK citizenship by a year. Earlier, citizenship process used to take as long as five years, which is now being increased to six years. However, in certain cases, where the applicant does not take up required community work, process will take five plus additional three years, thus making the process eight years long. New step of an additional year will be known as 'probationary citizenship' phase.
New rules will be applicable to all the immigrants irrespective of their nationality. However, Europeans, including east Europeans will be exempted. East Europeans countries have become part of the European Union in recent past. Similarly, immigrants already living in UK will also be exempt, and the rules will apply only to the future immigrants. Certain rulings will become enforceable as late as 2010. Draft bill of the prospective law is due this summer and is expected to be a full-fledged law by November.
It has also been noted that some nationalities are showing low rate for taking up UK citizenship. These nationalities include Filipinos, Americans and Australians. Take up rate among Americans is 40% whereas Australians recorded 49%. Filipinos have take up rate of 50 percent. Liam Byrne, Immigration minister of UK, said that proposed law is expected to improve such situation of indecisiveness.
Prospective law has been lauded for integrating new immigrants and for providing them essential facilities such as employment, education etc. It also confirms government's commitment to provide better and fair system and assistance to law-abiding immigrants.