Emigration in Ireland Spurred on by Unemployment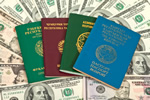 Emigration in Ireland has been a problem for some time now. In fact, ever since the job market bottomed out, people have been leaving Ireland in groups to find work elsewhere. Some are even now saying that emigration and education appear to be behind a huge fall in unemployment.
Numbers right now are showing a 2,300 dip to 434,800 in the number of people signing on. A lot of this has to do with the eight percent drop in youth unemployment. These figures were revealed by the Central Statistics Office.
On top of this, the Irish government is now being accused of a "hopeless and harmful" reliance on emigration instead of real policies to tackle joblessness. Getting more people to leave Ireland to make more jobs available is not the way to go. Mostly, it's the young and able that are leaving Ireland to find work elsewhere. These are the people that Ireland should want to hold on to.
Unemployment has only risen marginally among people aged 25 and over. However, unemployment has risen 8.5 percent for those under the age of 25. Unemployment also fell faster among men and in the west of the country. This is significant because the west is believed to be the worst hit by emigration.
Now, the Republic's unemployment rate is 14.3 percent. This is being compared to Northern Ireland's 6.9 percent tally for August to October of last year. These are not the kind of numbers that the Republic wants to see.
So far, it has been estimated that around 70,000 Irish have actually left to go to other countries. The most popular places they are going include the UK, New Zealand, Canada, the United States, Germany, and Australia.